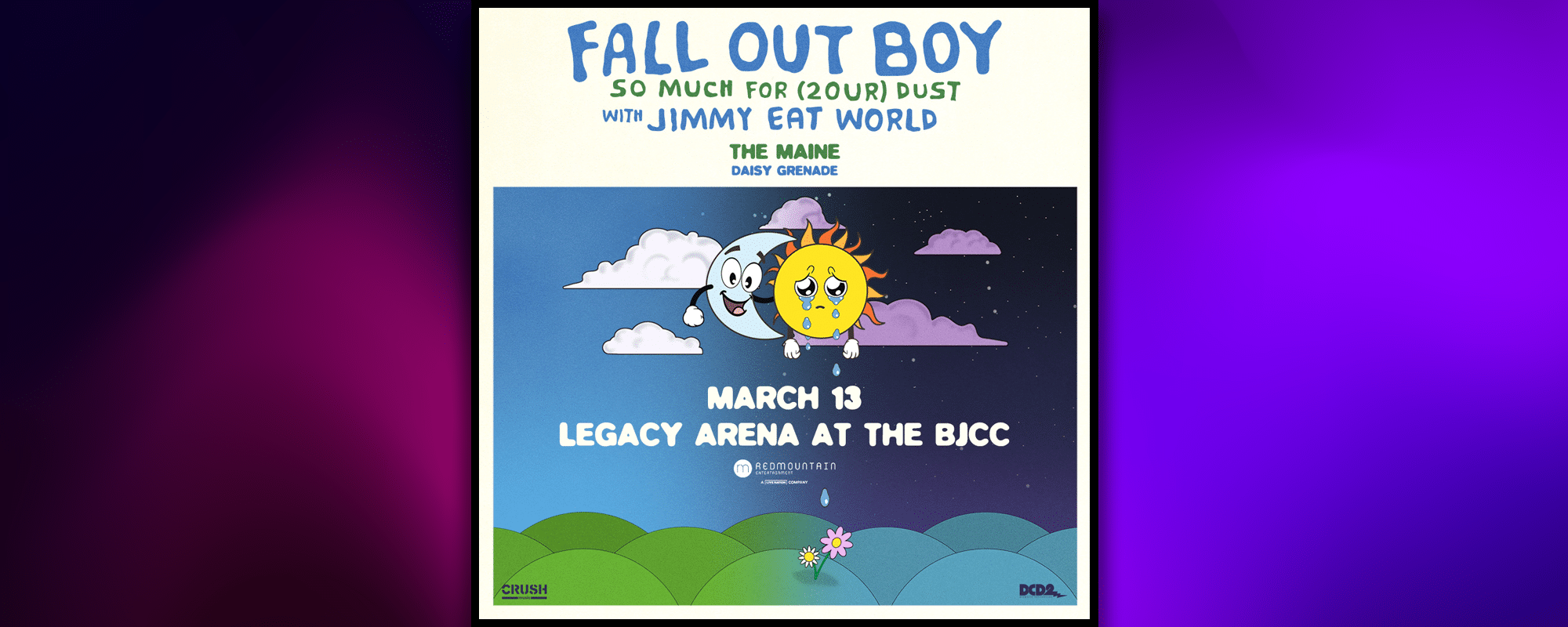 Date
Wednesday Mar 13 2024
Fall Out Boy
Fall Out Boy have cemented their position as one of rock music's biggest-selling bands. On March 24, 2023 Fall Out Boy released their eighth studio album So Much (For) Stardust on Fueled By Ramen/Elektra/DCD2 Records. The album marks the band's first new album in more than five years, and its lead single "Love From The Other Side" is already a global hit, hitting No. 1 at Alternative Radio in February – an achievement that marked the band's first career alternative No. 1 song.

In July 2021, Fall Out Boy embarked on THE HELLA MEGA TOUR alongside Green Day & Weezer, playing live in front of over 1 million fans on a sold-out global stadium tour and marking the first time the three bands had headed out on the road together. The U.S. leg included numerous sold out stadium gigs – including renowned venues like Wrigley Field, Fenway Park and Dodger Stadium. Critical and fan acclaim poured in, with USA Today hailing it "the most stacked line-up of any rock tour in 2021," Billboard noting that each night was "serving up a buffet of hits in front of one of the largest concert crowds," and Rolling Stone calling it "wildly entertaining." The tour was nominated for both Major Tour of the Year and Best Rock Tour at the Pollstar Awards in 2021. The international leg of the tour took place throughout the summer of 2022. Fall Out Boy's seventh studio album M A  N  I  A  debuted at #1 on the Billboard 200 in January 2018 and garnered a GRAMMY nomination for Best Rock Album. The record marked the band's third consecutive and fourth overall #1 album respectively and featured the global smash "The Last of the Real Ones.
In 2015, Fall Out Boy released their platinum, sixth studio album AMERICAN BEAUTY/AMERICAN PSYCHO, which debuted at #1 on the Billboard 200 and peaked at #1 on iTunes in more than 22 countries upon its January 2015 release. The album's first two singles "Centuries" and "Uma Thurman" have been RIAA-certified 4x and 2x platinum, respectively. AMERICAN BEAUTY/AMERICAN PSYCHO followed the GRAMMY-nominated band's gold-certified album SAVE ROCK AND ROLL, which debuted at #1 on the Billboard 200 and #1 on iTunes in 27 countries upon its April 2012 release and features the multiplatinum hit "My Songs Know What You Did In The Dark (Light Em Up)" and hit "Alone Together." SAVE ROCK AND ROLL was the band's second #1 debut; Platinum selling "Infinity On High" topped the chart in 2007 which followed multi-platinum breakthrough album "From Under The Cork Tree" released in 2005. They were most recently nominated for a 2019 MTV Video Music Award for BEST ROCK VIDEO ("Bishops Knife Trick") and have won FAVORITE ARTIST: ALTERNATIVE ROCK at the 2015 American Music Awards, BEST ROCK VIDEO at the 2015 MTV Video Music Awards and BEST ALTERNATIVE BAND at the 2014 People's Choice Awards. Fall Out Boy has also written the song "Immortals," featured in the Oscar®-nominated Disney hit movie Big Hero 6, which topped the box office upon its November 2014 release and has already surpassed $222 million at the domestic U.S. box office and topped $650 million globally.
Hailing from Chicago, Fall Out Boy—Patrick Stump (vocals/guitar), Pete Wentz (bass), Joe Trohman (guitar) and Andy Hurley (drums)—has appeared on the cover of Rolling Stone and other prestigious publications. They have performed on Saturday Night Live, The Tonight Show Starring Jimmy Fallon, The Today Show, America's Got Talent, The Voice, Late Night with Jimmy Fallon, The Tonight Show with Jay Leno, Conan, The Late Show with David Letterman, Jimmy Kimmel Live!, Good Morning America and many more. More information can be found at www.falloutboy.com.