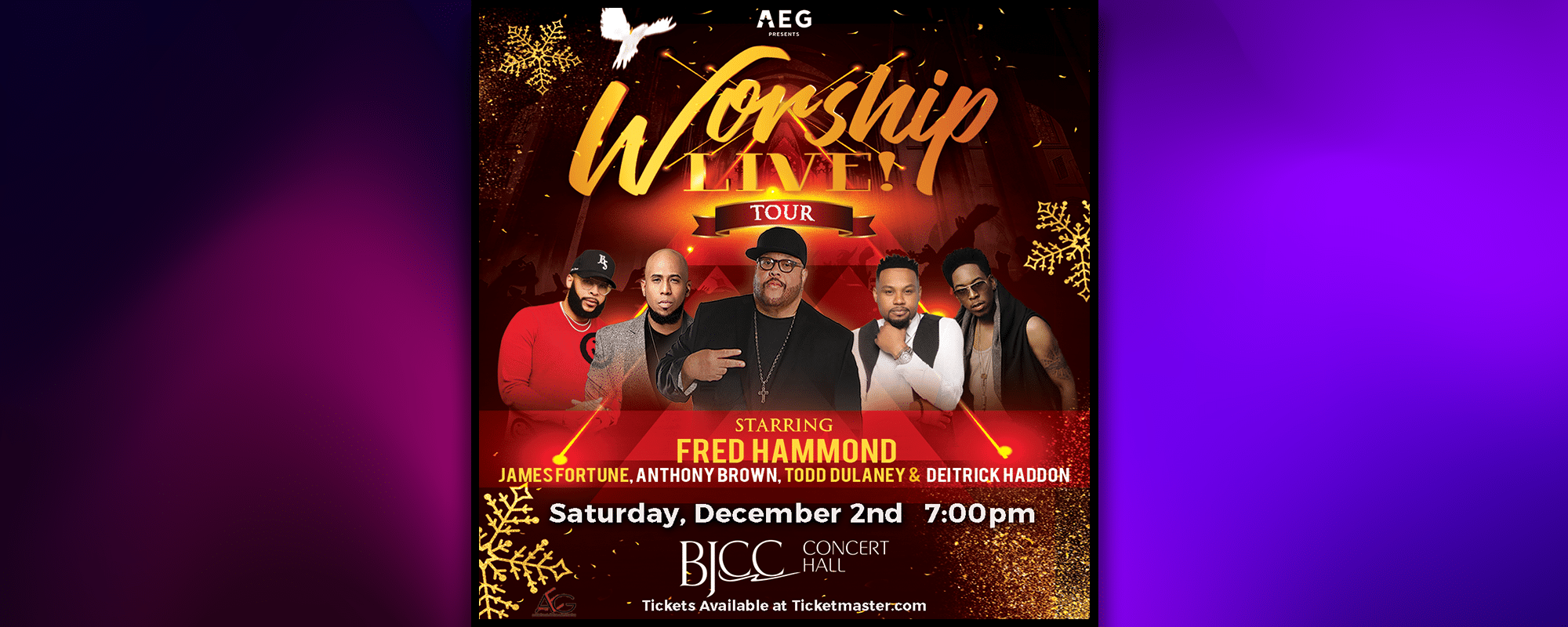 Date
Saturday Dec 02 2023
Expired!
Worship Live
Something incredible, groundbreaking, hand clapping, and soul stirring will be coming to BJCC. Worship Live will be an unforgettable experience! Grammy award winner Fred Hammond will be joined by gospel superstars Deitrick Haddon, Anthony Brown, Todd Dulaney, and James Fortune for an epic night of worship.
Since 1995, singer and pastor Deitrick Haddon has recorded more than 20 albums, five of which reached No 1 on Billboard's Top Gospel Albums chart. During the '90s while leading Voices of Unity, the group won New Artist of the Year and Album of the Year honors from the Gospel Music Worship of America.
Gospel music legends and fans alike are abuzz about Anthony Brown, a young, urban, musically endowed and gifted songwriter and vocalist. With an artistic pedigree that is steadily strengthening his stature and distinction, Brown is quickly becoming recognized as an up-and-coming force in the gospel music industry and church music ministry.
Todd Dulaney spent most of his life pursuing a baseball career, playing 5 years of professional baseball. Now, his joy comes from serving the Lord in any and every capacity of life. He is steadfast and sold out to God and his eyes are focused on ministry and fulfilling His purpose. Dulaney's dream is to write music, which ministers to the heart of God and touches the heart of man. Not what's hot, but what delivers, what heals, what restores, music that God inhabits.